SEER Certificate
What is SEER?
Corporate citizenship is more than a trend – it is an essential component of how businesses operate today. Forward-thinking organizations increasingly need leaders who understand the complexities of issues such as sustainability, corporate social responsibility, and ethics – and how these tie into innovation, agility and winning in the market.
The Pepperdine certificate in Socially, Environmentally, and Ethically Responsible (SEER)Business Strategy, led by Director of the SEER Program, Rob Bikel, allows students to complement their MBA degree with courses and activities that will prepare them to:
Incorporate their own values and ethics into a successful career in 21st-century business
Apply SEER values to companies large or small, across a diverse range of industries
Lead the next wave of great organizations
Recipient of the coveted Page Prize for Sustainability Issues in Business Curricula.
The SEER Difference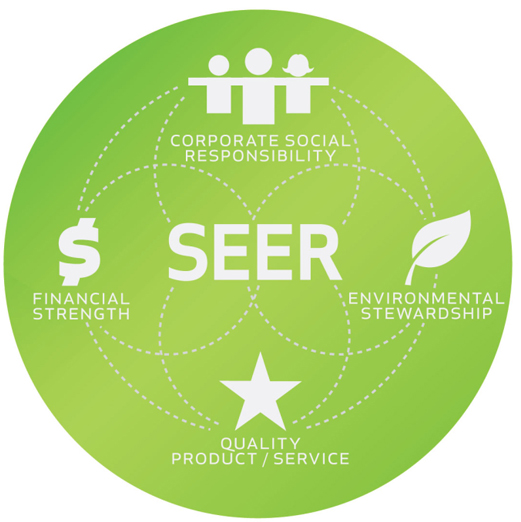 Many sustainable MBA programs have focused attention on "the triple bottom line" – People, Planet, Profits. While this is a formidable start, the SEER Certificate program goes a step beyond and adds a fourth factor to the equation: Product – because delivery of a quality product or service is essential for a sustainable competitive advantage in any business.
Great products or service are embedded with the SEER values from the early product development stage or idea generation. The values are not simply "added on" to the product or service before launch.
These four macro-values – Corporate Social Responsibility ("People"), Environmental Stewardship("Planet"), Financial Strength ("Profits"), and Product/Service – illustrate the crux of the SEER philosophy.
These values do not operate in isolation. Rather, they function as a system with many areas of overlap and interaction. Decision-making is rarely, if ever, guided by one of the four values individually.