Welcome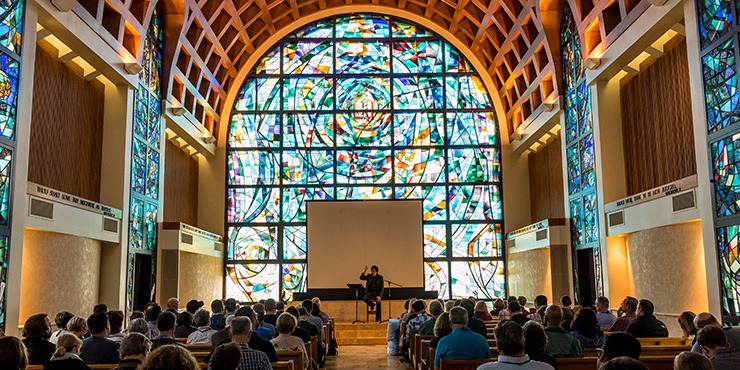 Pepperdine University aspires to be an institution that nurtures the love of God with "heart, soul, strength, and mind," where the integration of faith and learning and a commitment to spiritual formation pervades all aspects of its institutional life, where spiritual commitments shape the lives of teachers, scholars, administrators, and staff, and especially, where Christian faith impacts the classrooms of all academic disciplines through research and pedagogy.
Pepperdine welcomes people from a variety of religious backgrounds or no religious background, who are at dramatically different stages in their spiritual journeys. In keeping with Jesus' call to practice hospitality toward all people, we view Christian spiritual formation as an invitation to participate in a spiritual journey, within a welcoming community committed to treating each other with care and respect.
At the same time, given our identity and mission as a Christian university, and growing out of the commitment to spiritual formation expressed both in the Pepperdine University Strategic Plan and in George Pepperdine's original vision for the college, we envision Pepperdine University as a institution that provides opportunity, encouragement, and resources for all members of the Pepperdine community to engage the Christian understanding of spiritual growth.
---
Spiritual Life Partners
At Pepperdine University, spiritual formation is woven throughout the campus and academic life of the community. Opportunities to engage in the life of faith, spirituality and theology abound campus-wide.
To explore the opportunities and departments involved in the spiritual life, please visit:
University Wide Spiritual Life
Seaver College Student Spiritual Life
Graduate Student Spiritual Life
In addition, please visit the Christian Spirituality Research Institute for information on research being conducted on spiritual formation at Pepperdine University.
---
Christian Spirituality Research Institute
Welcome to the Christian Spirituality Research Institute (CSRI) Website. This institute is run by director Dr. Cindy Miller-Perrin. The ultimate goal of the institute is to empower students, alumni, and faculty to use their gifts to serve God within the larger body of Christian higher education, thereby helping them pursue their life purpose as they find meaning through serving others. To this end, the CSRI has many initiatives, including research on undergraduate student life purpose and faith, graduate and professional school life purpose, faculty spiritual autobiographical journeys, new faculty and mid-career faculty retreats, sophomore year experiences, and alumni life purpose and faith. Further information on each of these initiatives can be found on this site. If you wish to receive more information please contact Dr. Miller-Perrin.